Information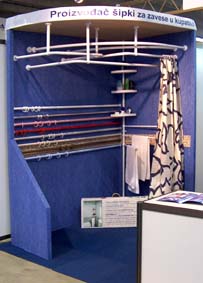 Dear Customers, we are pleased to provide you with some more details regarding our offer.
We provide tension curtain rods, angular rods, and Arch/ U-shape ones made of aluminum pipe with powder varnish finish, electrically polished and anodized, which ensures endurance against attrition and influence of external conditions.
The following sizes of rods are available:
1. Tension rod, 28mm70 - 110 cm
2. Tension rod, 28mm105 - 180 cm
3. Tension rod, 28mm140 - 250 cm
4. Tension rod, 20mm70 - 120 cm
5. Tension rod, 20mm125 - 220 cm
6. Angular universal rod 20mm90 x 90 cm; 90 x 80 x 90 cm;90 x 170 cm
7. Angular rod 28mm90 x 90 cm
8. Angular universal rod 28mm90 x 90 cm; 90 x 80 x 90 cm; 90 x 170 cm
9. Arch-shape rod 28mm80 x 80 cm
10. Arch-shape rod 28mm90 x 90 cm
11. Arch-shape rod 28mm120 x 120cm
12. Arch-shape rod 28mm140 x 140 cm
13. Arch-shape rod 28mm150 x 150 cm
14. Arch-shape rod 28mm160 x 160 cm
15. Arch-shape rod 28mm170 x 170 cm
16. Arch-shape rod 28mm180 x 180 cm
17. Arch-shape rod 28mm105 x 140 cm
18. Arch-shape rod 28mm105 x 160 cm
19. Supporting mounting for Arch-shape rod 28mm
20. Separable curtain rings/hooks
The rods mentioned in items 1-5 do not require any wall or tile drilling to be mounted. They can be disassembled any time without leaving and traits after the earlier mounted rod.
The rods described in items 6-19 need drilling to be installed. The needed stretching spikes (dowels) are included in each set.
All 28mm in diameter rods come in seven colors:
white
beige
brown
pink
red
blue
grey
Additional rods described in items 1-8 are available in polished silver (chrome-like) color.
All rods 28mm in diameter come in eight colors plus anode silver (mat silver), rods 20mm in diameter come in white and anode silver colors.
We also offer the following:
bath curtains from PE 180 x 180 cm
textile bath curtains 180 x 180 cm made from impregnated material
textile bath curtains 180 x 200 cm made from impregnated material
We encourage our customers to buy our products and feel fully satisfied with using them.